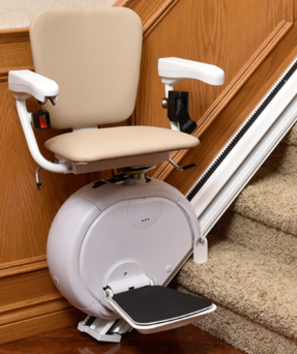 Savaria
K2 Straight Stairlift

The K2 stairlift is one of the easiest ways to stay in your home and enjoy the freedom of barrier-free living. Installed on your stairs, in only a few hours, the stairlift carries you smoothly and quietly up a straight flight of stairs. Liftavator's K2 stairlift is uniquely compact – with the slimmest fold-up dimension on the market at only 10 3/4″ wide – to allow easy access to the stairs when the lift is not in use.
With safety features including a retractable seatbelt, overspeed governor and obstacle sensor system, you can count on your Liftavator K2 stairlift. Finished in soft white with an unobtrusive design, the K2 blends easily into your home decor
NOTE: If length of stairwell exceeds 178″, our extension kit is required for an additional expense.
Details
Conquer Your Stairs:
If you want the freedom of mobility in your home and find stairs difficult or impossible to manage, Liftavator's K2 Stairlift could be the ideal solution for you. Glide up and down in comfort and safety using the onboard controls or with the help of remote control operation. The constant-charge battery operation means that your stairlift works even through a power failure giving you peace of mind.
Specifications:
| | |
| --- | --- |
| Applications: | Residential, indoor, straight-run stairway |
| Capacity: | 300 lb (136 kg) |
| Maximum Travel Distance: | 32 ft (9.75 m) |
| Travel Speed: | 15ft/min (.08m/s) |
| Drive: | Rack and pinion |
| Motor: | 1/3 HP, 24 VDC power that charges on standard household power |
| Fold-up width: | 10 3/4" (27.3cm) |
| Fold-out width: | 20 1/2" (52cm) |
| Range of incline: | 30" to 55" |
Features:
Constant-charge battery operation throughout the rail to ensure that the stairlift is always charged and ready to go, even if there is a power failure (several cycles of up/down)
Comfort foam seat and back rest with wipe-clean synthetic leather
Adjustable arm width (up to 21″/533mm wide) and capacity up to 300 lbs
On-board controls with soft start and smooth stop operation
Seat swivels and locks into position for safe on and off seating, retractable seat belt
Infrared (wireless) remote control included
Obstruction sensors located on the carriage and the anti-skid fold-up footrest to stop the chair if it meets an object in both up or down travel directions
Folds up to less than 12″(35cm) to allow easy access to the stairs when unit is not in use
Reliable rack and pinion drive with sturdy, aluminum rail construction
Fast installation and onboard diagnostics to identify any service issues
Options: Flip-up rail to accommodate door or entrance way at base of stairs, emergency stop button, overspeed brake and radio frequency remote
NOTE: Commercial use varies by region; contact us for more details.
Planning Guide
When planning for the installation of your K2 Stairlift, please use the attached guide to help get proper measurements. Do not hesitate to contact our office if you have any questions or need additional information.
Warranty
Most Liftavator products have a standard warranty of three (3) years. Warranty periods of up to five (5) years are available for some products. For more specific information on warranty coverage, please contact us directly.